Step 1. Connect Two of Your Devices to Computer
To start with, run the program and connect two devices (they can be an Android phone or tablet, iPhone, iPad and iPod touch) to your computer via USB cables. When your devices are connected and recognized by the program, your devices will show in the window as follow.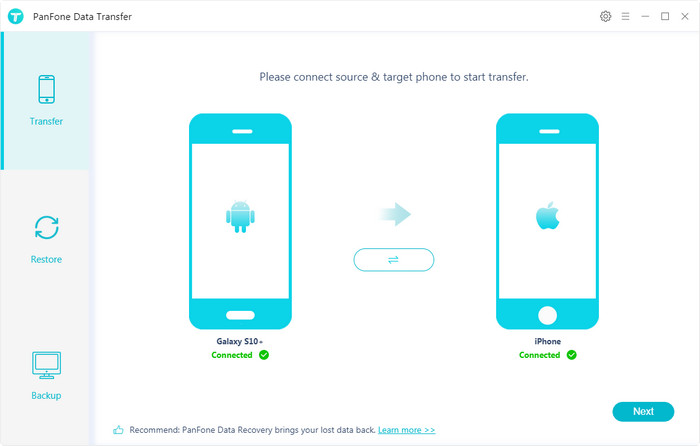 Here take iDevice for example. The names of your devices will be displayed in the places of "Source" and " Target". You can click "Flip" to change which one be the source and the targeted phone.
Step 2. Enable USB debugging mode - for Android device ONLY (Optional)

For iOS devices, please scroll down.
Android users may encounter below situations:
* Install USB Driver for Android
Generally, the computer will auto-install the proper driver when connecting your New Android smartphone or tablet via USB. Without the drivers or when they are not installed properly, the computer won't be able to detect your device.
Note: If you have installed a proper driver before, you can skip this step.
* Enable USB debugging
USB debugging mode must be enabled in order to let PanFone Data Transfer set up your android phone. For Android 6.0 or above, please refer to the tutorial below.
Note: If you have enabled USB debugging on your device before, you can skip this step.
*Click here to learn how to enable USB Debugging Mode in details >>
Step 3. Start to Transfer Data from One Phone to Another
After you connected two devices successfully, click on the "Next" button. Now, you are allowed to select your desired data to transfer. Check your desired data or select all, after the loading process is completed, click on "Next" to start the transfer process. The selected files would be fully copied to your target phone.